From Ms Justina Toh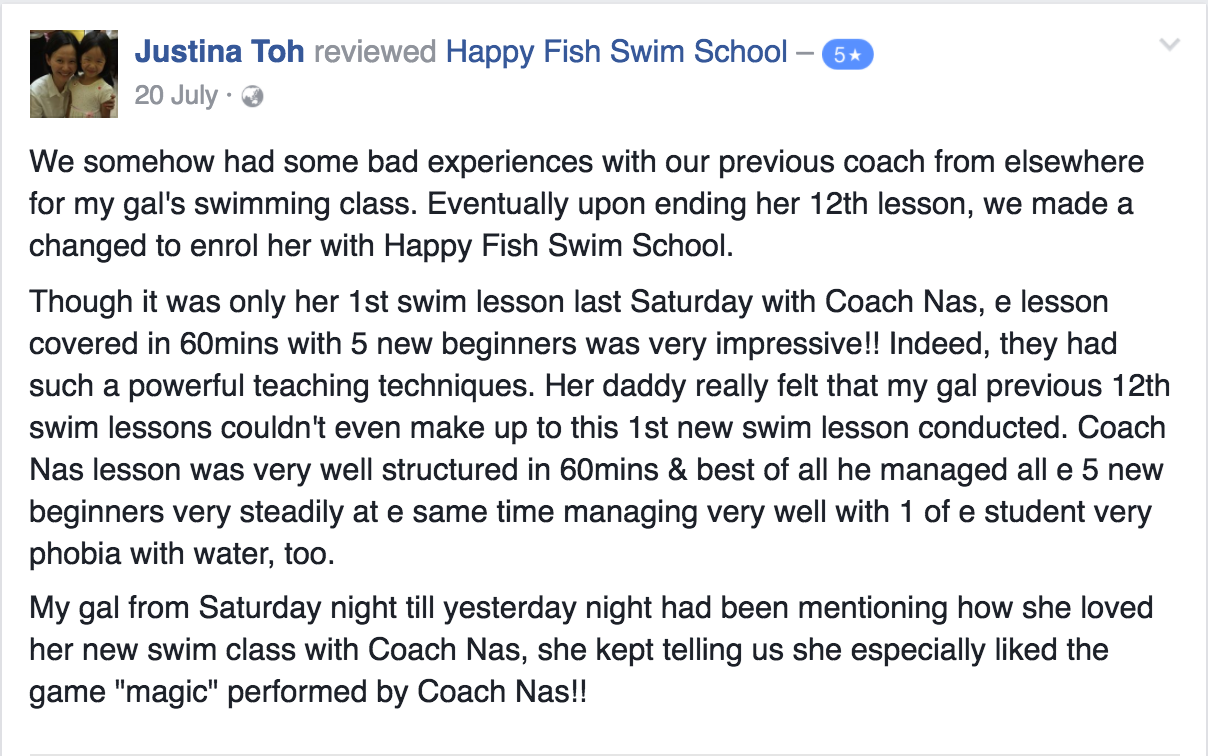 From Ms Kelly
From Stephanie G Griffin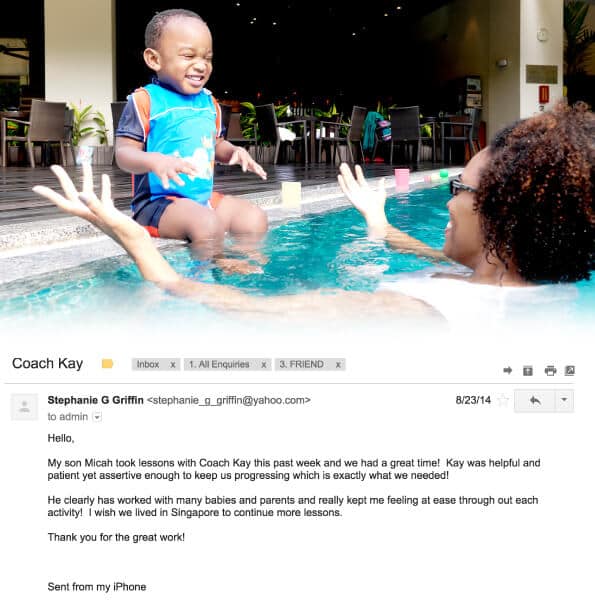 From Jasmine Lee
Greetings Happy Fish!!!
I would love to direct this letter of commendation to Muhammad Ridhwan Bin Hussin, my group adult swimming lesson coach, for his outstanding coaching in swimming.
I started my first adult swimming lesson back in July 2013, and my last lesson ended on 10th October 2013. Throughout these 12 lessons, Coach Ridhwan has been a great help in my swimming progress!!! I am able to swim now and do different strokes!!!
Coach Ridhwan has a tremendously great and fun way of teaching swimming. He can be serious and yet entertaining simultaneously. What I really like about Ridhwan is his flexibility in teaching – he would always cater to each individual's needs and observe each student's swimming movements, and then tackle the problem at hand. It is a very efficient way of teaching! His survival skills teaching were really awesome and informative too!!!!!
Moreover, to ease our stress, Coach would always joke with my classmates and I, and tell us about his life experiences that made us even more motivated!!!
It is indeed an honour to be under Coach Ridhwan, no doubt about that!! I would like to take this golden opportunity to express my heartfelt thanks to him for making my swimming learning journey a really pleasant and memorable one. Coach Ridhwan is really a great swimming instructor. THANK YOU RIDHWAN!!!!!
Please help me to convey my sincere thanks to Coach Ridhwan. Thank you very very much.
From Tammy Fam
Thank you Jian Yong for the wonderful session with my little baby yesterday. We thank you for your kind understanding on how little babies need to learn at their own pace and take them seriously no matter how "little" they are. We are looking forward to this coming Sunday, and many more Sundays to come.
From Ranjan & Deepanjali
My Hubby and myself wanted to learn swimming from a very long time and finally we decided to go for Private lessons from Happy Fish.
We are lucky to have Mr. Thong Tseng as our coach , he is very friendly with a wonderful sense of humor . We strongly believe that it is the instructor's attitude and professionalism that truly counts
His technique of teaching is very different from others. He emphasizes on strong reasoning for everything move he teaches. Since we able to clearly understand the reason for every Hand and leg movement , I was able to swim Freestyle (yes Freestyle) in 3 sessions only .
And on top of it , I must mention that our coach is very humble and generous in terms of timings , most of our 60 mins class was extended to 90 mins because he wanted to give individual attention to both of us.
I will be very Happy to recommend Coach Thong to my friends to register with Happy Fish.  Big Thank you to all your team.
From Joshua & Huat
My buddy and I signed up for a class at Bedok Swimming Complex, with coach Vicson.
I was initially apprehensive about being able to learn the proper techniques, but I have to say that thanks to Coach Vicsons cheerful nature, and the individual attention he gives us in correcting our form, we have picked up the proper swimming techniques very quickly.
Always with a smile and ready to help, Coach Vicson has really made the weekly lessons a joy to attend.
Well done to this fine Coach and keep up the good work at Happy Fish =)
From Vishal and Vaishali Arora
Hi Happy Fish,
This mail is to express my gratitude towards your easy and loving way of teaching swimming. I, Vishal, and my wife, Vaishali, are both students of your 8-9 and 7-8 PM Wednesday batches respectively. I am very happy to say that you have great ability to teach. Both I and my wife have been able to learn swimming easily from you despite of the fact that we get little time for practice being parents of a 2.5 years old kid. You have a unique way of teaching which seems to be based on ample amount of research.
Once again thanks for the superb work done.
From Satisfied Mummy
Hi Three Cheers for Coach Vicson
With his cherubic face , ever smiling plus bubbly  personality have erased every fear of my special need son.
Its easy to engage any coach but searching for someone who is gentle, easy going and build a wonderful rapport with my kid was really trying.
His sincere , patient  but fun approach strike a great chemistry with my son who needs alot of coaxing to remove his float and build up his confidence eventually. It allays his anxiety by using lots of fun toys. .. So impressive and my son just cudnt wait for his next lesson!!!
I really would like to recommend him to anyone who has a child like mine. He really brings enthusiasm to the pool with his  unique style n constant sunshine
Well Done Vicson!
From Baisakhi Debnath, Bedok Swimming Complex
Want to learn swimming in just one class? Mr Viscon is the perfect instructor for this!
I am 28 years old and wanted to learn swimming from a very long time. But was contemplating whether I could learn swimming at this age as people usually say its easier to learn swimming when you are a kid.
But to my surprise – I was able to swim (Breaststroke) in just one class. All Thanks to Vic (Mr Viscon). He has got a unique way of teaching different techniques/styles of swimming. The technique is "Music". Once you learn his music and follow steps according to his music I bet you'd be able to swim in just one class.
Mr Vic gives ample of time to each one of his students and makes sure that each one performs the strokes in the right manner. (I was a part of private swimming class – 5 people in this course)
And of course as always said "Practice makes man perfect". A considerable amount of practice after each class is highly recommended. Only then you will reach your goals very soon ! Right now I am enjoying swimming and am looking forward to learn new strokes and techniques.
From Edward Chen
Vicson, I really enjoyed learning to swim with you. Your techniques and the way you teach were great…I will always remember the steps you taught me.
As a beginner, I was a bit embarassed  & scared of water. I know that I need to practise more as I am still uncomfortable in deep water and not doing
so well. But I feel more comfortable now. Your way of teaching and the way you approach me, the beginner, were great. I did not feel so bad being a 34-year-old non-swimmer.
I had a great experience. Thank you so much.
From Farid Rawan, Queenstown Swimming Complex
We have had 5 lessons with coach Garett so far. My son is only 10 months old so he cant swim yet but his confidence in the water has grown immensely and he is enjoying swimming a lot. I am also growing in confidence by using the techniques learnt from coach Garett.
Coach Garett is friendly, knowledgeable and seems excellent at fitting a lot into a 30 minute class. I am also very thankful for coach Garetts reminder text messages about class cancellations and schedule changes.
From Aparna, Gillman Heights Condominium
As Featured On The Sunday Times
"After the Sentosa accident, I'm more certain I want my three-year-old son to pick up swimming. Learning to swim made me more confident in the water and I feel safer with this skill. " – Aparna Vedantan, 32 who started taking swimming lessons a month ago. She said: "The drowning cases alarmed me. I though it would be better to be safe than sorry.  After the Sentosa accident, I'm more certain I want my three-year-old son to learn swimming."
From Jon's Mom, Bedok Swimming Complex
Hi Zames. My son jonathan lim attends yr swimming lesson on sunday 9am @ bedok. He loves it and looking forward to yr lesson every week no matter how tired he is. You are friendly and patience. Just a thank you note.
From Eunice Toh, Jurong West Swimming Complex
Our first lesson was on 19.09.09 by Mr Alex Loh. My 4 kids and myself really enjoy his coaching. Fist he is very patient. The message is send across very precise and he really made my kids enjoy the lessons looking forward for the next one. I shall not hesitate to recommend my friends to register with Happy Fish. Thank u. Maybe this is the first lesson but I strongly believe that it is the instructor attitude and professionalism that counts thank you Mr Loh and also Mr Andy Foo assistance.
From Sharon Ng, Jalan Besar Swimming Complex
Dear Sir or Madam,
I would like to express my thanks for arranging my swimming lessons with instructor Alvin Ong.
With Alvin's coaching and guidance, I was able to make significant progress from one who totally knew nothing about swimming and had great phobia just putting my head, holding my breath under the water since young to being able to enjoy simple swimming across the pool in just 3 months, something I thought I would never be able to achieve after so long!
I enjoy attending Alvin's lessons because they are very systematic and allow real beginners like me to grasp the movements of the stroke step by step logically till we are able to combine them altogether. Alvin is also attentive to his student's learning progress. He constantly focuses part of the lessons to make sure I am aware of and to correct or overcome areas that I am weaker in. He also makes sure we learn essential water survival techniques alongside the learning of the swimming strokes. I can see and enjoy my progress after each lesson and i feel really great!
I am really glad I signed up for the private swimming lessons with Happy Fish Swim School and under the guidance of a great instructor. I now enjoy swimming as a form of past time, exercise and leisure.
Thank you. I really appreciate it.
From Kunal Jindal, Braddell Height Condo
I am writing this testimonial for Mr Alvin Ong..
Firstly, let me objectively talk about my swimming capability before the classes and also the results achieved ..
Background- For 24 years (my present age), i wanted to learn swimming, but could never attempt to do so primarily because of high power spectacles i wore from a small age, which made it difficult (uncomfortable) to go into water. I went for LASIK around 12 months back, so i was keen to learn swimming ever since. But the challenge for me was my age and the zero experience in swimming.
Results- In 6 classes (6 weeks of individual lessons), I learnt Breast Stroke and Freestyle Swimming. I had confidence to go into the deep waters alone.. Offcourse, I still need more practice to perfect the strokes, but I believe being 80-90%there in two strokes (of swimming) in such timeline given no previous experience is a big achievement.
I would like to heartily thank Alvin for being a great mentor/coach/friend for the last 2 months or so and being the enabler of such spectacular results.
Some of the admirable things i picked up about Alvin..
1)Alvin has a great passion for the sport of swimming and that reflects in his body language. He is personally motivated to make others learn swimming. He keeps encouraging me to go for life savers course to enable saving lives even well after i have stopped taking the classes..
2) He is very skilled at the intricate details of the art of swimming. He also has immense experience (more than 10-12 years)in being a swimming coach..
3)He also has a very friendly and approachable nature which enables students to ask even stupid questions and get their hesitations removed.. He even spent time for a post swim – tea discussion and a dinner with his other students (including me).
4) He is genuinely interested in students progress and challenges them for the next level of learning-irrespective of time/money/other constraints- I wanted to learn as many strokes as possible within least time and he was very very supportive/encouraging of the idea.. The testimony of that is the incredible results achieved.
5) He is also willing to put in the extra effort in order to get students coached. As i was interested in learning snorkelling, he even picked me up from my office and took me to a shop for the equipment, bargained for me and got me a good deal.. He also taught the basics of snorkelling (beyond swimming to me)
6) He is also enouraging to students to think beyond swimming.. He also motivated me for diving course in Malaysia once i was skilled enough..
Thanks Alvin.. Hope you are just as motivated to teach others the art of swimming throughout.
From Penny Michael, Toa Payoh Swimming Complex
Thank you for arranging my swimming lessons with Ms Kum today, at Toa Payoh Swimming Complex (every Weds 7pm).
I am very impressed with Ms Kum. She is exactly what a swimming instructor should be – very professional, thorough and speaks well. Started off with completing a form, giving our personal details and next of kin contact in case of emergencies.
Begins with some theory lessons on preparation before swimming. No eating at least 3-4 hours before classes. No wearing ear-rings or other jewellery. Don't exercise in water too much before class as this will tire our muscles quickly. Rules of swimming: never swim alone – always be with someone. When swimming in the sea, always swim along coastline, never towards the open sea due to strong tides.
Ms Kum also showed the proper way to enter the pool using ladder. Thereafter, started breathing techniques, arm movements, head control in and out of water. The right way to pull legs under water to a stand position. When to use float, when to let go, how to float…..
Before I knew it, the lesson was over. It was a very productive first lesson and I really enjoyed myself very much.
It is very important and beneficial to both parties that theory, structure, understanding of swimming, environmental conditions should be acknowledged, not merely just getting in a pool and splashing around. As a beginner, the crucial facts of swimming that Ms Kum highlighted to us 3 ladies yesterday are extremely significant and of valuable information. I did not know it myself. As much as swimming is an enjoyment, we should also be advised of the dangers it entails and the consequences leading to mishaps.
I look forward to many lessons with Ms Kum.
From Ivy Choi, Bukit Batok Swimming Complex
My son was in the June school holiday intensive swim programme at the Bukit Batok Pool. He enjoyed the lessons very much.
A pat on the back to the instructor, Mr John Quek – who is child friendly and yet at the same time, could exert firmness in his handling of the children whilst in the pool – which is important. ( John, good job!).
From Vivien Tong, Jurong West Swimming Complex
Instructor Eric is good instructor, I find him very patient and is always wiling to play with the kids. I think that all the kids including my son, Jefferson are all very happy with him teaching them. They really enjoy swimming with him around.
My son, Jeff is actually extremely afraid of water but I am so glad that he truly enjoyed class with Instructor Eric, last sun(13th July 08) with no complains. I do hope Eric will continue to keep it up which will certainly really help Jeff(My son) to have confidence in swimming.
From Jennifer Huang, Delta Swimming Complex
Angelina is a good instructor. (although I am a bit slow in catching up). She is patient enough to repeat the strokes and I hope to master the basic in a few more weeks. But unfortunately, her schedule is very full. After a few lessons with her, I actually wanted to switch to weekend so that I don't have to rush down to Delta swimming complex during lunchtime but her schedule was full. Of course, Once I master the basic and of she has a free schedule for weekends, I don't mind going on to more advance strokes.
From Dawn Lin, Bedok Swimming Complex
"I want to say a big thank you to my instructor Ken and the coordinator Jay. I made the right choice to call up swimminglessons.com.sg. I have always wanted to learn how to swim, but didn't have the courage to start as I felt I am too old to learn, but Jay encourages me and said that no one is too old to start learning to swim, and in fact they have lots of students who are my age( 20s). Finally I plunge out my courage to take up swimming lesson, and what's even better is that my instructor is a really nice person. He's very patient, encouraging and has been very punctual for all my swimming lesson! I have been learning to swim for 3 months and now I'm able to swim breast stroke and free style at ease. I'm a very happy and satisfy student!"
From Audrey Tan, Bukit Batok Swimming Complex
"From hating swimming and only doing it because I'm being forced by my parents, to looking forward to every Tuesday & Friday night lesson. All thanks to Instructor Philip for helping me to develop my passion for swimming, I'm loving every stroke and learning something every session!"
From Wencong, Jurong West Swimming Complex
"Despite having tried swimming lessons on and off over the past 20 years I remained a reluctant and nervous swimmer. Recently, however, I was delighted to have the good fortune to find Coach Alex, an inspirational instructor who has the ability to coach with the perfect mix of humour, patience, rigour and reassurance.
As a result of one-to-one lessons with Alex during recent months I have, finally, learned to trust the water and myself. I sometimes wonder who faced the bigger challenge!"
From Tina Yeo, Costa Del Sol Condo
"The swimming lesson I had with Instructor Ridhwan really paid off; most importantly, for my confidence. Now I believe that I'm an OK swimmer and that one day I might even be good! Instructor Ridhwan has always made me feel calm and relaxed in the pool, coaching me with useful ideas from his very own extensive experience. My swimming is flowing far more than it ever has and feels really smooth. I know that Im expending far less energy, which is what swimming supposed to be!"