Swimming Lessons For Kids (5 – 12 years old)
Indoor Heated Pools . Well-proven Curriculum . Over 20000 Happy Students
A Vital Life Skill for Every Child
Swimming is not just an enjoyable activity, it's an essential life skill that empowers children to explore their world with confidence. Research shows that regular swimming improves oxygen delivery to the brain, enhancing focus and learning efficiency in daily activities. At Happy Fish, we believe that swimming lessons should be fun and promote lifelong skills. Our passion for swimming drives us to inspire our students to love it just as much as we do!
Swimming is considered a crucial life skill and is included in the national curriculum. As one of the most popular sports in the country, it offers various opportunities, from recreational and competitive swimming to open water adventures.
Achieve SwimSafer Certification and Beyond

Our kids' swimming lessons begin with the Happy Fish method, teaching essential swimming skills enjoyably and engagingly. As children become proficient, they can participate in the SwimSafer assessment, designed to develop essential water survival and life-saving skills. This valuable certification opens doors to even more aquatic opportunities and achievements.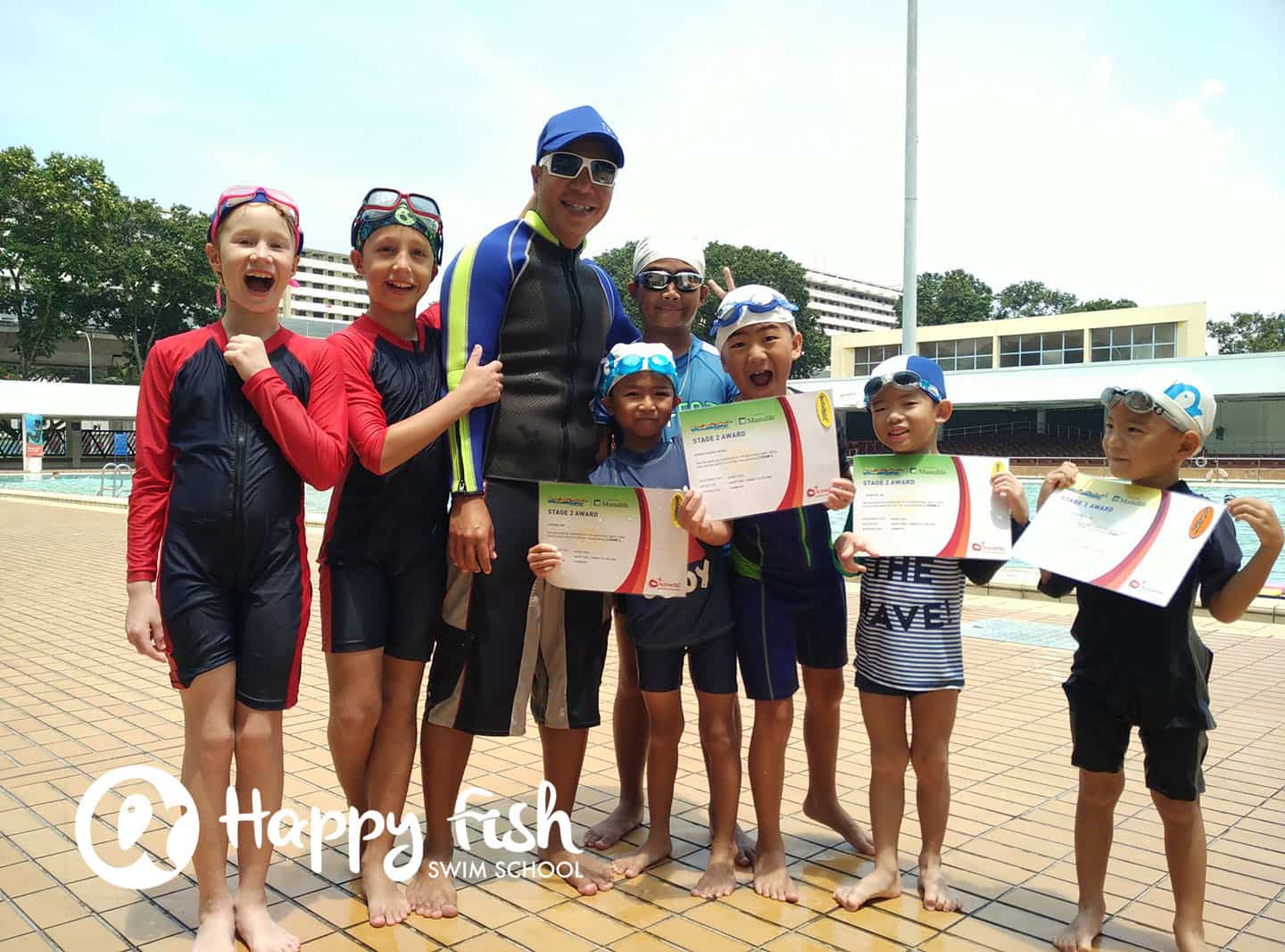 Learn To Swim Progression
Beginner Level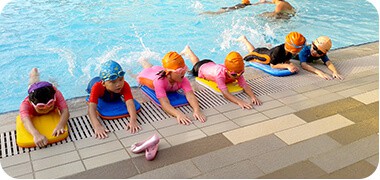 Water Confidence & Propulsion
Students will learn how to enter the water safely and how to be safe in deep water. General safety knowledge alongside learning how to move forward and backward in the water is taught as well. Personal survival skills and the ability to properly enter and exit the pool will be covered here.
Intermediate Level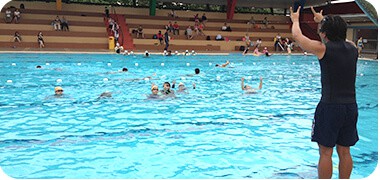 Freestyle, Backstroke & Breaststroke
Children will learn to swim basic freestyle, backstroke and breastroke at this stage. Additional skills on how to get into the water and how to perform a surface dive are covered. Students will learn to swim at least 25 metres.
Advance Level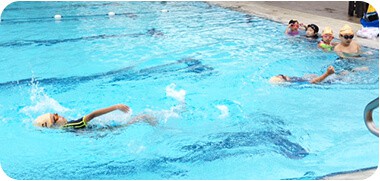 Butterfly & Proficient Swim Strokes
Children will learn to swim butterfly stroke and handle all other swim strokes techniques proficiently. The new goal at this point is to swim for 100 metres continuously.
Swimsafer Certification
Children who wish to take Swimsafer certification will be able to skip the first 3 stages and take part from Bronze level onwards.
Happy Fish is the leading swim school with 13 indoor heated swimming pools in Singapore & Malaysia, providing high-quality learn-to-swim programmes for all ages since 2007.
With 14 years of research and experience, we commit to bring the best learning experience to all our students. Using state-of-the-art water sanitisation and filtration system, our students can learn to swim in a comfortable, controlled environment with crystal clear water.
Happy Fish's Indoor Heated Swimming Pools
The happiest place to learn swimming!
Experience the exceptional at our indoor swimming pools, equipped with cutting-edge salt chlorinators and UV filter technology. Enjoy pristine water quality with UV filtration, a non-chemical process that purifies water to the highest standards, making it safe, healthy, and easy to manage. This powerful combination lowers chlorine demand by up to 90%, eliminating bacteria and other disinfection by-products.
Dive into the warm embrace of our crystal-clear water, maintained at a comfortable 30-32 degrees Celsius during lesson times. Say goodbye to shivers, stinging eyes, dry hair, and skin, and immerse yourself in the ultimate swimming experience at Happy Fish Swim School!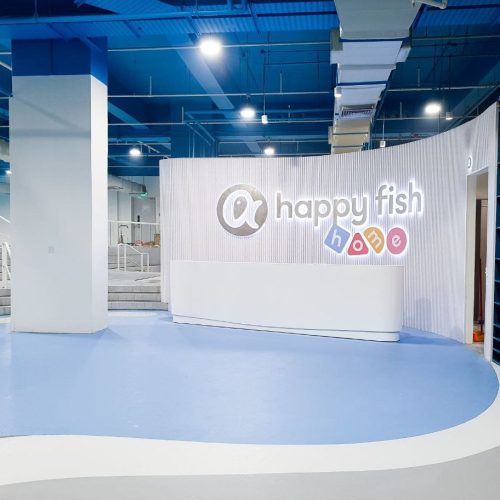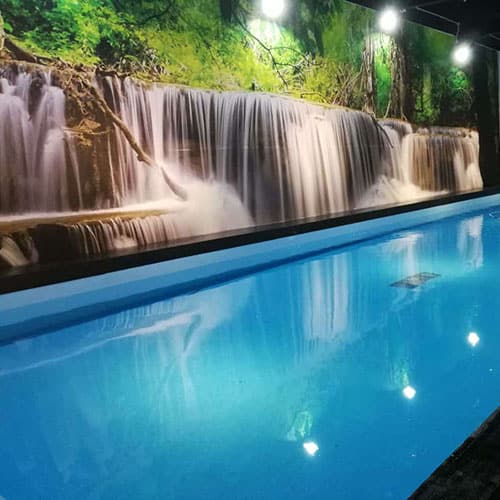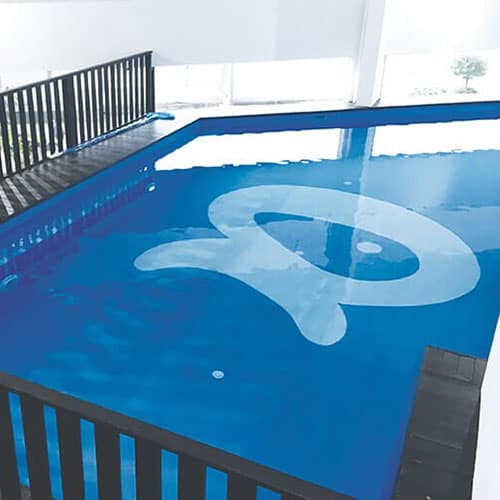 KSL Esplanade (Coming Soon)
Location
Happy Fish @ Wild Wild Wet
Happy Fish @ Bedok
Happy Fish @ Jurong East
Happy Fish @ Horsecity
Happy Fish HOME @ Bedok
Happy Fish HOME @ Stevens
Schedule
Weekday 1pm to 9pm (Last class at 8.30pm)
Weekend 9am to 6pm (Last class at 5.30pm)
GROUP

Happy Fish Indoor
Happy Fish Shaded
Happy Fish HOME
Weekday
S$345.60
/term
Weekday
S$276.48
/term
Weekday
S$432
/term
Weekend
S$540
/term
Weekend
S$432
/term
Weekend
S$702
/term
Term: 10 lessons with 4 make-up credits
Frequency: Once a week
Duration: 45 minutes (<6 students)
Duration: 60 minutes (7-10 students)
Class size (Beginner): max 6 students
Class size (Int & Adv): max 10 students
Happy Fish Pool Class Policy
Lessons are scheduled for 10 consecutive weeks, excluding gazetted public holidays.
A maximum of 4 make-up credits is allowed each term (only applicable for infants, toddlers, kids' classes). Parents must inform the school 2 hours before the lesson. A valid Medical Certificate of the student's name must be submitted within a week of the absence backdating of the lesson.
Strictly no rescheduling of the make-up lesson is allowed. If you have confirmed a make-up slot, the make-up credit is considered utilized. To reschedule a make-up lesson, another make-up credit must be activated 2 hours before the lesson.
Students with perfect attendance (or not utilising the make-up credits) are eligible to redeem either an underwater photoshoot or a 1-minute milestone video.
Children below 5 years old are required to wear approved snugly fitting swim diapers (iPlay™ and SnuglyFit™). Strictly no other brands of swim diapers are allowed.
Students will be grouped according to age in their first term and may subsequently be regrouped according to their stages (timing may change).
There will be no lesson if the lesson falls on a gazetted public holiday. Lessons will be postponed and no further action is required by the customer.
Lessons will be as per normal for public holidays in lieu unless otherwise announced.
Happy Fish reserves the right to send a relief instructor if the class coach is unable to conduct the lesson on that day.
The School reserves the right to cancel or postpone the lesson in an unforeseen situation or when a relief coach is unavailable.
The School reserves the right to reschedule the commencement date of classes if the class size does not meet the minimum requirement.
In the event when the class size falls short upon the next term, the School reserves the right to reshuffle the students and close the class.
Other general Terms and Conditions apply
Register Now
Location
Any Happy Fish Indoor Heated Pool
Schedule
Any Weekdays
PRIVATE

Location
Happy Fish
Happy Fish HOME
Individual
S$432
S$648
Group of 2
S$486
S$810
Group of 3
S$540
S$972
Group of 4
S$594
S$1134
Term
4 lessons
Freq
Once a week
Duration
45 minutes per lesson
*All prices above are inclusive of GST
Do I need to be in the pool together with my child?
Parents do not need to be in the pool with the child. Parents can observe their child's swimming lessons from a designated viewing area.
What should my child wear to swimming lessons?
Children should wear comfortable, well-fitting swimwear, goggles, and a swim cap if necessary. Please ensure they have a towel and a change of clothes for after the lesson. Towels and toiletries are provided for Happy Fish HOME students.
Can I schedule a trial class for my child?
Yes, paid trial lessons are available for children interested in joining our swim school.
My child is Asthmatic. Is he suitable to learn swimming?
We highly recommend a doctor's opinion to be sought first as there are varying degrees of Asthma.
Do you offer make-up lessons?
Yes, we provide 4 make-up credits for each term. Students will be provided with other class slots at a similar level to attend as a make-up.
How long will it take for my child to become a confident swimmer?
It typically takes about 3 to 4 terms for a child to become a confident swimmer, depending on their abilities and consistency of attendance.
What is the appropriate age range for kids' swimming classes at Happy Fish Swim School?
Our kids' swimming classes are designed for children aged 5 to 12 years old.
Important Message For Parents
Parents play an important role in children's swimming experience. While children are striving hard to learn how to swim, parents should know how to help their children.
Do not expect your child to be able to swim soon after they are introduced to the water. It depends on individual's learning ability. As a parent, you should focus on the long-term goal and avoid putting pressure on achievement and expecting quick results, as this may become counter-productive.
Don't be over ambitious about your child's progress. Allow them to gradually develop and improve at his or her own pace. There is no shortcut in learning to swim. Practice makes perfect. Every children needs regular lessons and training, so don't hurry them! Your child will learn much more in short and frequent regular visits than in the occasional long one.
If your child no longer seems to enjoy the water, don't give up! Continue your regular lessons but don't waste all the earlier good work. It is a good idea to just hang around and watch as the others carry on, rather than skipping lessons.
Don't compare your child with others. Everyone has different learning ability.
If your child accidentally slips into the water and swallows water during the lesson, don't worry, as this is a learning process. Praise them for trying. Children need to be encouraged. By doing this, children will enjoy and have fun.
If your child cries during the lesson, it doesn't mean that your child is not ready for swimming lessons. You child may be adjusting to the separation from Mum and Dad, getting accustomed to the new surroundings, or just having a bad day. Give your child some time and let him or her develop confidence. Very soon he or she will be able to enjoy this wonderful experience in a totally relaxed environment with us.