Baby Swimming Lessons
Indoor Heated Pools . Proven Curriculum . Over 10000 Students
Baby swimming is the first step towards a lifelong love for the water and a foundation for a healthy and confident future
The sooner a child discovers the freedom of buoyancy and underwater swimming, the more relaxed and independent he or she will become.
Babies are born with over 70 neonatal reflexes. They have the ability to react to stimulation with motor responses. As most neonatal reflexes weaken during the first 6 months, babies need proper guidance to master new patterns of voluntary movement in order to explore the water in a safe and fun environment.
Swimming allows babies to exercise which helps in the development of their motor, coordination, lung capacity and balance. Research shows early swimming also helps the baby in a growing sense of self-esteem, confidence and independence. It is also helpful in literacy and numeracy development.
Our aquatic program is designed for babies from 4 months to 2 years old. Babies will learn how to enter the water safely, hold their breath when they go underwater, propel themselves to the side of the pool and finally get out of the pool safely.
What's In It For My Baby?
Research shows children who swim at very young age
An excellent way to physical, social & emotional development.
Improve heart and lung function.
Precious bonding session with parents.
Better oral expression, literacy, numeracy & mathematical reasoning compared to the normal population
* Research done by Griffith University, Australia on 7000 babies.
The duration of our swimming class is kept short to cater to the learning style of every little child. Parents are encouraged to participate and assist in lessons to make your babies feel more comfortable, reduce the feeling of strange and separation anxiety. Hence, they will be able to adapt quickly to the new environment in the pool as well as our instructors way faster!
Who We Are?
Happy Fish is the leading swim school with 13 indoor heated swimming pools in Singapore & Malaysia, providing high-quality learn-to-swim programmes for all ages since 2007.
With 14 years of research and experience, we commit to bring the best learning experience to all our students. Using state-of-the-art water sanitisation and filtration system, our students can learn to swim in a comfortable, controlled environment with crystal clear water.
We love to give you and your baby the best swimming experience since birth! We bring your baby back to the water world just like when they were inside mummy's tummy. Our job is to train you, parents, to be the best swimming teacher of your little champion. Come and join us to start your babies' wonderful swimming journey today!
How Do We Teach Babies To Swim?
With many years of teaching experience since 2007, Happy Fish has developed a highly effective teaching system that has successfully taught thousands of children how to swim with confidence. Following an engaging and fun curriculum, one can expect a pleasant learning experience which produces tangible results.
Classes at Happy Fish are usually ongoing in order to develop a good consistent routine in our students. This also enables them to be able to minimise disruption, while promoting progression. Every stage is expected to last about 3 to 6 months, with some of the key milestones being:
Water Familiarisation – Explore the water safely and confidently
Breath Control – Hold breath on command to be ready for submersion
Submersion – Explore underwater safely and confidently
Free Floating – Discover buoyancy and freedom of floating without assistance
Propulsion – Proper kicking and paddling method to propel through the water
Independent Swimming – Ability to change breath to swim for longer distance
Happy Fish's Indoor Heated Swimming Pools
The happiest place to learn swimming!
Experience the exceptional at our indoor swimming pools, equipped with cutting-edge salt chlorinators and UV filter technology. Enjoy pristine water quality with UV filtration, a non-chemical process that purifies water to the highest standards, making it safe, healthy, and easy to manage. This powerful combination lowers chlorine demand by up to 90%, eliminating bacteria and other disinfection by-products.
Dive into the warm embrace of our crystal-clear water, maintained at a comfortable 30-32 degrees Celsius during lesson times. Say goodbye to shivers, stinging eyes, dry hair, and skin, and immerse yourself in the ultimate swimming experience at Happy Fish Swim School!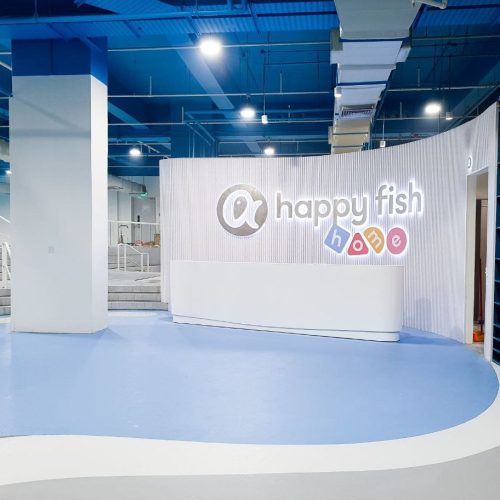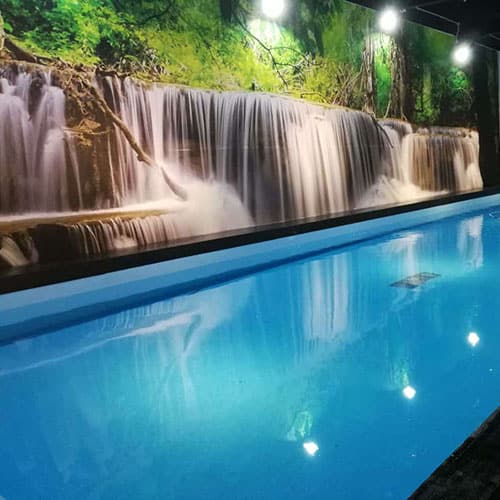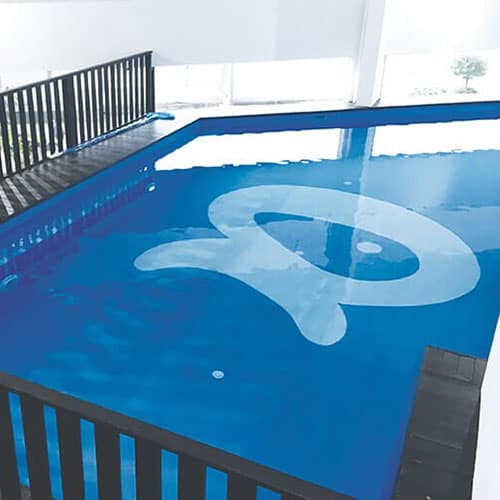 KSL Esplanade (Coming Soon)
Location
Happy Fish @ Wild Wild Wet
Happy Fish @ Bedok
Happy Fish @ Jurong East
Happy Fish @ Horsecity
Happy Fish @ Duke's Road
Happy Fish HOME @ Bedok
Happy Fish HOME @ Stevens
Schedule
Weekday 1pm to 9pm (Last class at 8.30pm)
Weekend 9am to 6pm (Last class at 5.30pm)

GROUP

Location
Happy Fish
Happy Fish HOME
Weekday
S$345.60
/term
S$432
/term
Weekend
S$540
/term
S$702
/term
Term
10 lessons with 4 make-up credits
Freq
Once a week
Duration
30 minutes per lesson
Group Size
max. 6 students
Terms & Conditions
Lessons are scheduled for 10 consecutive weeks, excluding gazetted public holidays.
A maximum of 4 make-up credits is allowed each term (only applicable for infants, toddlers, kids' classes). Parents must inform the school 2 hours before the lesson. A valid Medical Certificate of the student's name must be submitted within a week of the absence backdating of the lesson.
Strictly no rescheduling of the make-up lesson is allowed. If you have confirmed a make-up slot, the make-up credit is considered utilised. To reschedule a make-up lesson, another make-up credit must be activated 2 hours before the lesson.
Students with perfect attendance (or not utilising the make-up credits) are eligible to redeem either an underwater photoshoot or a 1-minute milestone video.
Parent's involvement is required for all infant's and toddler's classes. In view of Covid-19, the School will only allow one parent to participate.
Accompanying adult must wear appropriate tight-fitting swim attire. Strictly no form of boardshorts, long pants and non-Happy Fish t-shirts is allowed.
Children below 5 years old are required to wear approved snugly fitting swim diapers (iPlay™ and SnuglyFit™). Strictly no other brands of swim diapers are allowed.
Students will be grouped according to age in their first term and may subsequently be regrouped according to their stages (timing may change).
There will be no lesson if the lesson falls on a gazetted public holiday. Lessons will be postponed and no further action is required by the customer.
Lessons will be as per normal for public holidays in lieu unless otherwise announced.
Happy Fish reserves the right to send a relief instructor if the class coach is unable to conduct the lesson on that day.
The School reserves the right to cancel or postpone the lesson in an unforeseen situation or when a relief coach is unavailable.
The School reserves the right to reschedule the commencement date of classes if the class size does not meet the minimum requirement.
In the event when the class size falls short upon the next term, the School reserves the right to reshuffle the students and close the class.
Other general Terms and Conditions apply
Location
Happy Fish @ Wild Wild Wet
Happy Fish @ Bedok
Happy Fish @ Jurong East
Happy Fish @ Horsecity
Happy Fish @ Duke's Road
Happy Fish HOME @ Bedok
Happy Fish HOME @ Stevens
Schedule
Any Weekdays
PRIVATE

Location
Happy Fish
Happy Fish HOME
Individual
S$432
S$648
Group of 2
S$486
S$810
Group of 3
S$540
S$972
Group of 4
S$594
S$1134
Term
4 lessons
Frequency
Once a week
Duration
30 minutes per lesson
*All prices above are inclusive of GST
What is the best age to start for baby swimming?
While children can start learning to swim at any age, it's highly beneficial to begin as early as 4 months old. At this young age, babies are like clean slates and can quickly absorb new skills and techniques. Introducing swimming at this stage not only helps with their physical development but also enhances their cognitive and emotional growth. Babies who begin swimming early tend to outperform their peers, demonstrating the advantage of early exposure to this essential life skill.
How are babies grouped in classes?
Babies are grouped by age, ensuring they have similar developmental abilities and can comfortably interact with their peers.
How long does it usually take for a baby to learn to swim a short distance?
On average, it takes about 3 to 4 terms for babies to learn to swim a short distance. However, each baby's progress can vary depending on factors such as their individual learning pace and the consistency of attending lessons.
Do parents need to be in the water with their baby during lessons?
Yes, a parent or caregiver is required to be in the water with the baby. In our baby classes, we believe that parents are the best swim teachers for their babies. Our coaches will guide and work closely with parents to help them teach their babies effectively and confidently, ensuring a positive and enjoyable learning experience for both parent and baby.
What should my baby and I bring to the swimming lesson?
It's important to bring a snugly fitting swim diaper for your baby from our approved swim diaper brand. Our staff will assist in taking measurements of your baby's waist and thigh to recommend the right size. In addition, please bring your baby's swimwear and a towel. For parents, bring your swimwear, towel, and any other personal items you may need. Toiletries and towels are provided for Happy Fish HOME students.
What is the make-up lesson policy for missed classes?
At Happy Fish Swim School, we understand that sometimes unforeseen circumstances may cause you to miss a class. To accommodate this, we offer a make-up lesson policy. Students are eligible for up to 4 make-up credits per term, which can be used to attend an alternative class at a similar skill level. To arrange a make-up lesson, please contact our team, and they will assist you in finding a suitable class. Make-up lessons are subject to availability and must be used within the current term.
Why do babies need to wear a swim diaper even if they are potty trained?
While your baby may be potty trained, accidents can still happen, especially in a new environment like a swimming pool. Swim diapers are designed to contain any accidents and prevent contamination of the pool water. This helps maintain a clean and hygienic environment for all swimmers. At Happy Fish Swim School, we require all babies to wear a snugly fitting swim diaper from our approved brand, regardless of their potty training status. Our staff will assist in measuring your baby's waist and thigh to ensure the proper size is worn during lessons.
What should I do if my baby is cranky during the lesson?
Babies communicate their feelings through crying, so it's essential to stay patient and positive when your baby is cranky during a swimming lesson. Try to understand the possible reasons for their discomfort, and address them calmly while maintaining a smile. Your emotions can influence your baby's feelings, so staying positive is crucial. If your baby becomes cranky, avoid leaving the pool immediately, as they may associate crying with leaving the pool. Instead, give them time to adjust and provide reassurance as needed.
How often do baby swimming lessons take place? How long is each lesson?
Baby swimming lessons are held once a week. Each lesson is 30 minutes long.
Is there an option for a trial lesson before committing to a full term of baby swimming classes?
Yes, we offer paid trial lessons for baby swimming classes. This allows you and your baby to experience our teaching style and class environment before committing to a full term.
Can my baby join swimming lessons if they have a medical condition?
We recommend consulting with your baby's healthcare provider before enrolling them in swimming lessons. If your healthcare provider approves, please inform our instructors about any medical conditions or concerns, so we can tailor the lessons to your baby's needs.
How can you support your child's swimming journey?
Baby understands your body language and subtle changes. Stay calm, relaxed, and always wear your best smile! Your little one will soon discover the joy and fun of swimming.
Remember, every child is unique. Don't expect your baby to submerge or swim immediately after being introduced to the water. Focus on long-term goals and avoid stressing over short-term achievements.
Be patient and allow your baby to develop and improve at their own pace. There's no need to rush the process.
Consistent practice is key. Children learn more effectively through short, frequent, and regular visits rather than occasional long ones.
If your child accidentally swallows water during the lesson, cough together and gently pat their back. Praise them for trying, and always wear your best smile! Encouragement is essential for children to enjoy and have fun.
Crying during a lesson doesn't mean your child isn't ready for swimming. They may be adjusting to new surroundings or simply having an off day. Give your child time to build confidence, and soon they'll enjoy this wonderful experience in a relaxed environment with us.
Be Part Of
Happy Fish Family
Begin your swimming journey with us today!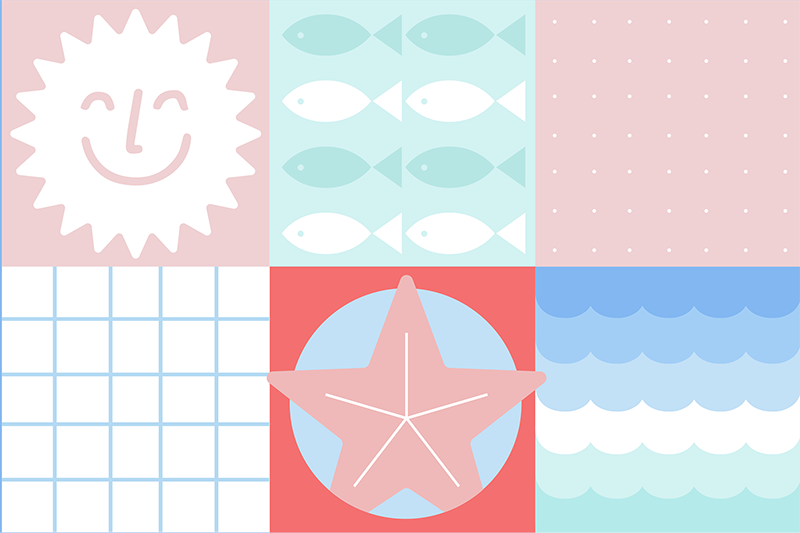 little ripples, big dreams