Gear Up, Suit Up and Be Ready!
Great News for Happy Fish Students!
Students from Happy Fish are going for some fun and put their swimming into real practice. Partnering Infinity Sails, we will embark our journey on a 40 foot sailing catamaran to Lazarus Island for an adventure. Students will be able to snorkel, swim, participate in water sports or spend a lovely afternoon on Lazarus beach or the yacht. Join us in Jan 2021!
Happy Fish Adventure Trip Highlight
Activities

Snorkelling
Open Water Swimming
Stand-up Paddle-boarding
Kayaking
Sandcastle Making
Yacht Cruising

What's available on board
Life jackets

Full face snorkelling masks

Kayak

Stand up 

paddle boards

Certified lifeguard onboard

Microwave Oven

Traditional Oven

Cooking Stove
Refridgerator
Requirements
Happy Fish students & graduates with family
Departure Dates
18 Mar 2021, Thurs (8:00am to 1:00pm)
18 Mar 2021, Thurs (3:00pm to 8:00pm)
Fees

Weekday:
SGD856 (GST included) per family (up to 8 pax)

Weekend:
SGD1070 (GST included) per family (up to 8 pax)

* Maximum 2 families per trip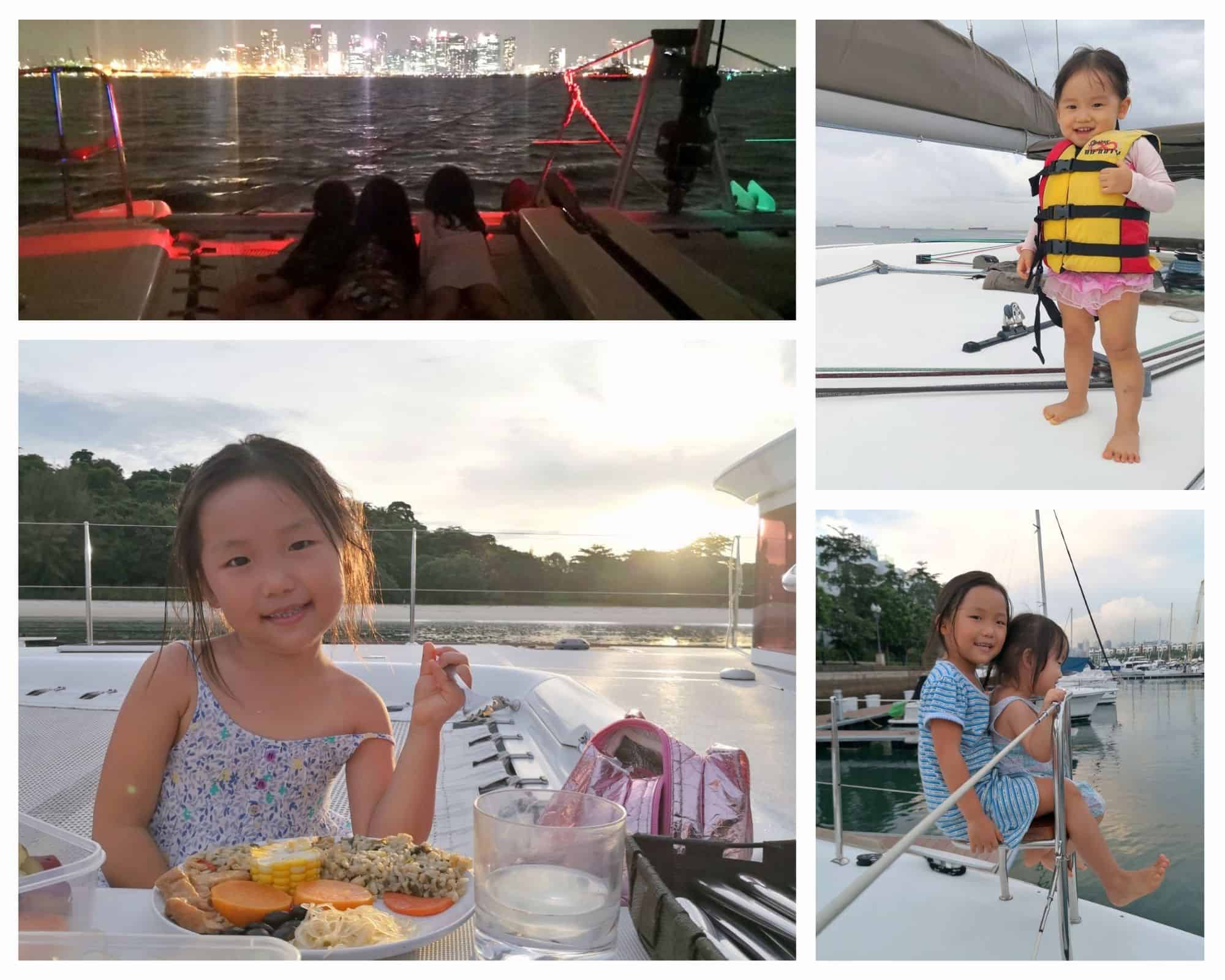 Book Now!
Contact Chris 96993782 to book and quote "Happy Fish Sea Adventure"
In partnership with Infinity Sails
Frequently Asked Questions
Is this trip opened to everyone who is keen on this trip?
Is the Happy Fish Adventure trip only for one family?
Is there an age limit for kids?
Is baby considered one headcout?
Yes, the mandatory regulation of five in a group includes all children. This also includes infants being carried.
Do I need to bring my own food and drinks for the trip?
Please prepare your own food and beverages as they are not included in the package.
How do I confirm the booking?
Please WhatsApp us at 96993782 to enquire and book. Quote 'Happy Fish Sea Adventure' with the necessary details and the number of people in your group.
What do I need to bring along for the trip?
Please be advised to bring along the following items for the adenvture trip:
1. Sunblock
2. Motion sickness medication (optional)
3. Swim wear
4. Extra clothes to change
5. Towel
6. Toiletries
7. Food and Beverage
What if it rains on the charter date itself?
Happy Fish Adventure is a rain or shine events. Light drizzle is still considered fine for the trip to continue. In the event of very bad visibility or lightning, the skipper will advise if the trip can proceed on or needs to be postponed. In the event of postponement, a separate trip will be arranged and client will be advised the next available date or time. Safety is our priority.
Do I need to bring extra clothings for the trip?
There are water activities, hence the chances of getting wet are high. Do bring extra clothes to change out to prevent falling sick.
Is the boarding time flexible?
No, we operate on fixed schedules for the trips. Please be punctual as the trip has more than 1 family and all families are expected to be on-time. The yacht keeps to the departure timing strictly due to other scheduled charters.
Are pets allowed on the adventure trip?
Pets are not allowed on board as we have other families that may be sensitive to pets.
Do I need to observe Safety Management Measures (SMM) since Covid-19 is still a prevalent issue?
The crew will conduct a pre-departure briefing. Kindly adhere to the Dos and Don'ts shared by our crew.
Can I include my own activities in this adventure trip?
This adventure trip is designed to include all the main activities that appeal to most families. If there are activities that you would like to do, please drop us a note via whatsapp for our instructor to review and to advise accordingly.
Book Now!
Contact Chris 96993782 to book and quote "Happy Fish Sea Adventure"