Swimming Lessons For Ladies
Indoor Heated Pools . Dedicated Coaches . Over 10000 Students
A Lady Community For Your Swimming Success !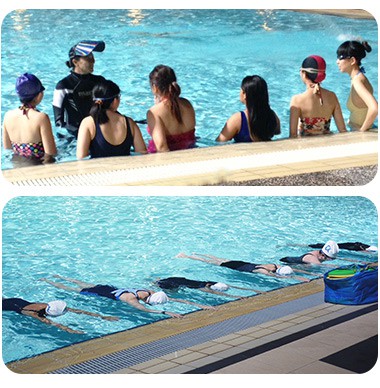 Ladies, here's the swim lesson specially designed for you, taught by our female swim teacher. Anyway, it is better for any woman who is interested in swimming lessons to look into female instructors.
There is the ability for a female instructor to work with a woman's body in mind. The body of the average woman is radically different from the body of an average man. In fact the body fat that a woman will need to have to be a successful swimmer can actually be twice as much as what a male will need for success in the water. In fact female swimming instructors can offer information on women of all sorts about swimming including women who are pregnant.
When a woman learns about swimming from another woman it will be easier for her to learn how to swim because of how the strokes and patterns in swimming that will be used are ones that can be easier for her body to duplicate.
Our female swimming instructors uses swimming teaching system to ensure your success. Each lesson are designed to offer an individual style program. You can put your fears aside as our highly trained instructors gently ease you in and around the pool at your own pace. Each level has an outline of what can be covered.
Learn To Swim Progression Chart
Beginner Swimming Lessons
This stage is suitable for students who are new to swimming. The focus of the class is on the basic water skills, basic strokes and deep water orientation. During this stage, you will learn to
* Build up your water confidence
* Basic water skill like float, submerge and breathing technique.
* Swim a basic stroke. Eg, Freestyle or Breaststroke.
Approximate course duration = 1 to 2 terms (12 to 24 lessons)
Intermediate Swimming Lessons
Students will be able to swim at least 200 meters. In this class, you will gain proficiency in the following strokes:
* Freestyle and Breaststroke.
* Threading Water and Diving.
Approximate course duration = 1 to 2 terms (12 to 24 lessons)
Advance Swimming Lessons
Advance stage is where you will swim gracefully for long distance. This is achievable by correcting your swim stroke with body streamline, stamina and endurance training. Students who are at advance level will learn how to perform:
* Backstroke and Butterfly
* Somersault (Flip Turns) and Plunging
* Stroke correction and streamline
* Gain stamina in swimming
Approximate course duration = 1 to 2 terms (12 to 24 lessons)
Happy Fish's Indoor Heated Swimming Pools
The happiest place to learn swimming!
Our indoor pool is running on state-of-the-art salt chlorinator combined with UV filter. UV is the non-chemical technology used by New York City to purify drinking water. The results are equally impressive in swimming pools. You'll enjoy a pool that is safe, healthy, and a lot easier to manage. UV does the heavy lifting which lowers chlorine demand up to 90%. Bacteria and other disinfection by-products are safely eliminated.
We maintain pool temperature at 32-33 Celsius during lesson time, so be assured to enjoy the warm crystal clear water and say goodbye to shivers, stinging eyes, dry hair and skin!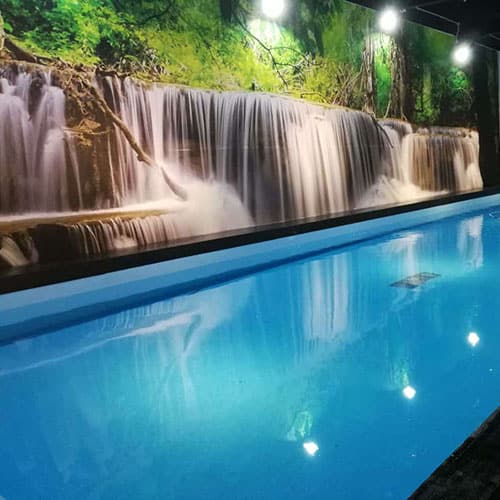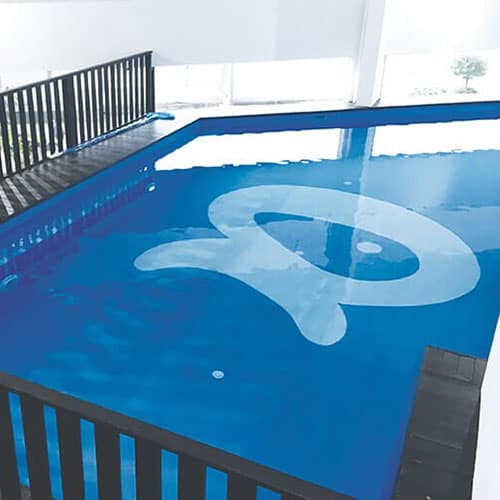 | | | |
| --- | --- | --- |
| | Schedule | Start Date |
| Happy Fish @ JE | Late evenings on weekdays | Call to enquire |
| Happy Fish @ Bedok | Late evenings on weekdays | Call to enquire |
Class Details
Happy Fish Indoor Heated Pools
S$342.40 per term (incl. GST) – Weekdays only
Term: 10 + 2 replacement lessons
45 minutes per lesson
Group Size: max. 6 students
Happy Fish Shaded Heated Pools
Location: Jurong East
Weekday: S$273.92 per term (incl. GST)
Weekend: S$342.40 per term (incl. GST)
Term: 10 lessons with 4 make-up credits
45 minutes per lesson
Group Size: max. 6 students
Happy Fish Pool Class Policy
Lessons are scheduled for 10 consecutive weeks, excluding gazetted public holidays.
Each term includes 4 weekdays self-practice sessions. Advanced booking is required for the self-practice session. Self-practice session must be fully utilised within the same term and is non-transferrable.
There is strictly NO make-up lesson for absenteeism.
There will be no lesson if the lesson falls on a gazetted public holiday. Lessons will be postponed and no further action is required by the customer.
Lessons will be as per normal for public holidays in lieu unless otherwise announced.
Happy Fish reserves the right to send a relief instructor if the class coach is unable to conduct the lesson on that day.
The School reserves the right to cancel or postpone the lesson in an unforeseen situation or when a relief coach is unavailable.
The School reserves the right to reschedule the commencement date of classes if the class size does not meet the minimum requirement.
In the event when the class size falls short upon the next term, the School reserves the right to reshuffle the students and close the class.
Other general Terms and Conditions apply.
Private Lessons at Selected Public Pools and Condominium Pools
Location
Please enquire with the School. 
Schedule
Weekdays ONLY (Subject to coach's availability)
Duration
45 minutes per lesson
Fees
1 month = 4 lessons
Private lesson @ Public Pools
Individual: S$300.00 per month
2 in a group: S$350.00 per month
3 in a group: S$400.00 per month
4 in a group: S$450.00 per month
5 in a group: S$500.00 per month
6 in a group: S$550.00 per month
Private lesson @ Indoor Pools (Weekdays only) – Inclusive of GST
Individual: S$428.00 per month
2 in a group: S$481.50 per month
3 in a group: S$535.00 per month
4 in a group: S$588.50 per month
5 in a group: S$642.00 per month
6 in a group: S$695.50 per month
Are the ladies' classes conducted by a female instructor?
Yes, they are conducted by a female instructor and the classes are made up of only female students.
If I'm not able to attend a particular lesson, will there be any make up?
It depends on whether you are going for group or a private swimming lessons. There will be no make up for group class, but not to worry as the instructor will revise what you have missed. As for private class, you are required to inform your instructor at least 6 hours in advance should you wish to postpone your lesson. ALL students are required to complete 4 lessons in a month.
Are your lady swimming instructors certified and proficient in handling ladies?
Our lady swimming instructors conducting lady classes are fully qualified with the relevant certifications from the Singapore Sports Council and the Singapore Swimming Teachers' Association. They are trained and experienced in conducting swimming lessons for ladies.
Is there any trial class available?
You are welcome to register for one month lessons prior to register a package. You may refer to Lady Swimming Lessons for more information. We are sorry that we do not offer single trial class at the moment.
I am Asthmatic, Am I suitable to learn swimming?
We highly recommend a doctor's opinion to be sought first as there are varying degrees of Asthma.
I couldn't find my answer.
Please email your enquiries to [email protected], we will be in touch with you soon. Alternatively, you can also give us a call at 6589-8650, Mondays-Sundays, 9am-6pm.
Ready to become a Happy Fish?