s

Thanks for choosing

 

Happy

 

Fish

!
Hi Tan Jian Yong,
Kindly refer below for the lesson and payment details.
CONFIRMATION
Payment:
You have to pay the lesson fee (SGD$663.4) within 72 Hours to

 

confirm

 

your slot.

 

You can pay via credit card here https://payment.happyfish.asia/ENQ-10595-1-092021
Student:
Hillary Tan,

 

5m

1st lesson:
23/10/2021 at 10:00
Number of lessons:
10 lessons with 4 make-up credits
Duration of each lessons:
30 minutes
Type:
Infant (04-12 months) Swimming Lessons group
Venue:

Happy

 

Fish

 

HOME @ Bedok (ESR Bizpark), 750 Chai Chee Road, #01-07 Singapore 469000
Schedule:
SAT 10:00 (You are advised to reach 15 minutes earlier to get ready.)
Terms & Conditions:

General Class Policy

There will be no lesson if the lesson falls on a gazetted public holiday. Lessons will be postponed and no further action is required by the customer.
Lessons will be as per normal for public holidays in lieu unless otherwise announced.
Happy Fish reserves the right to send a relief instructor if the class coach is unable to conduct the lesson on that day.
The School reserves the right to cancel or postpone the lesson in an unforeseen situation or when a relief coach is unavailable.
The School reserves the right to reschedule the commencement date of classes if the class size does not meet the minimum requirement.
In the event when the class size falls short upon the next term, the School reserves the right to reshuffle the students and close the class.
Complete terms & conditions can be found here

For Infants, Toddlers and Kids Group classes

Lessons are scheduled for 10 consecutive weeks, excluding gazetted public holidays.
A maximum of 4 make-up credits is allowed each term (only applicable for infants, toddlers, kids' classes). Parents must inform the school 2 hours before the lesson. A valid Medical Certificate of the student's name must be submitted within a week of the absence backdating of the lesson.
Strictly no rescheduling of the make-up lesson is allowed. If you have confirmed a make-up slot, the make-up credit is considered utilized. To reschedule a make-up lesson, another make-up credit must be activated 2 hours before the lesson.
Students with perfect attendance (or not utilising the make-up credits) are eligible to redeem either an

 

underwater photoshoot

 

or a

 

1-minute milestone video.
Parent's involvement is required for all infant's and toddler's classes.
Accompanying adult must wear appropriate tight-fitting swim attire. Strictly no form of boardshorts, long pants and non-Happy Fish t-shirts is allowed.
Children below 5 years old are required to wear approved snugly fitting swim diapers (iPlay™ and SnuglyFit™). Strictly no other brands of swim diapers are allowed.
Students will be grouped according to age in their first term and may subsequently be regrouped according to their stages (timing may change).

For School Holiday Programme

School Holiday Classes are only catered for kids' beginner level.
A maximum of 4 make-up credits is applicable for the school holiday programme.

For Adults/ Ladies/ Prenatal Group Classes

Lessons are scheduled for 10 consecutive weeks, excluding gazetted public holidays.
Each term includes 4 weekdays self-practice sessions. Advanced booking is required for the self-practice session. Self-practice session must be fully utilised within the same term and is non-transferrable.
There is strictly NO make-up lesson for absenteeism.
Happy Fish adopts strict swim attire policy to ensure the safety and hygiene for everyone. Please take note of the following attire notice.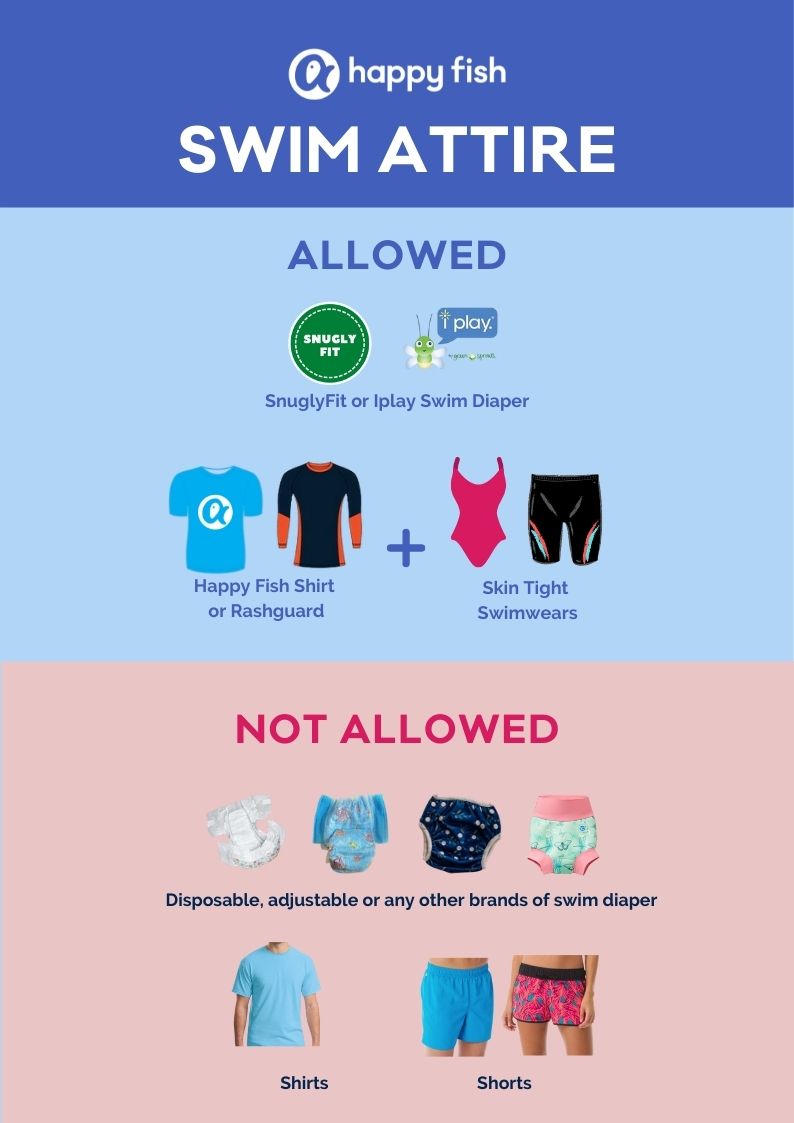 No Shorts or Home Tee
Home tee, shorts and underwear may hold detergents, germs and bacteria. Such materials transport airborne and water-borne contaminants into the pool. We cannot control what everyone wears below, so we have to enforce strict swim attire policy to keep our pool safe and hygiene.
(Baby & Toddler Class) Children below 5 years old are required to wear Happy Fish approved swim diaper
We've conducted swim diaper oatmeal tests on numerous swim diaper brands. The two brands that hold baby's discharge for the longest period are Iplay™ & Snuglyfit™, which lasted around 20-30 minutes. Poorly designed swim diapers failed to prevent leakage or seepage of diluted discharge which is generally difficult to notice. Please approach our crew on the first lesson to take measurements of the baby's waist and thighs to ensure a correct sized diaper.
What about toilet-trained children?
Children hold their breath underwater to swim. Some toilet-trained children are not able to control or communicate the need to visit the washroom in time. For the safety of all swimmers, we require all children below 5 years old to put on a snugly fitted swim diaper.