Singapore Swimming Proficiency Awards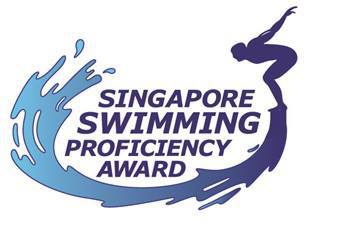 Singapore Swimming Proficiency Award (SSPA)
is a new initiative by Singapore Swimming Association which launched in 2013, an award structured to promote swimming proficiency as the platform for swimmers to enjoy all aquatic sports.
The main objectives are:
To Provide progression for swimming after SwimSafer
To raise the level of swimming proficiency of students and the general public
To increase the level of technical expertise among our swimming coaches
To provide a talent pool for the next generation of Singapore competitive swimmers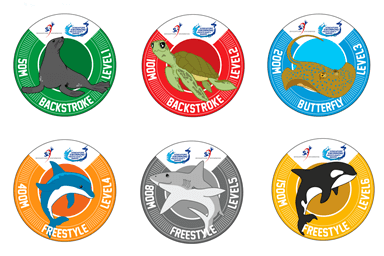 A total of 20 certificates and badges can be attained if the swimmer completes all the level. Nonetheless, the swimmer may wish to challenge himself or herself by attempting any particular level of swim test.
In completion of level 1, 2 or 3, the swimmer has an option to purchase a rainbow certificate and badge.
Level 1 to 3
| Types |  Level 1 (50m) | Level 2 (100m) | Level 3 (200m) |
| --- | --- | --- | --- |
| Color of Badges & Certificate | Green | Red | Blue |
| Symbol/Character | Sea Lion | Turtle | Stingray |
| Front Crawl | ≤1:05 | ≤2:30 | ≤5:20 |
| Breaststroke | ≤1:20 | ≤3:15 | ≤7:30 |
| Backstroke | ≤1:10 | ≤3:00 | ≤7:00 |
| Butterfly | ≤1:20 | ≤3:30 | ≤7:30 |
| Individual Medley |  – | ≤3:00 | ≤7:00 |
Level 4 to 6
| Types | Level 4 (400m) | Level 5 (800m) | Level 6 (1500m) |
| --- | --- | --- | --- |
| Color of Badges & Certificate | Bronze | Silver | Gold |
| Symbol/Character | Dolphin | Shark | Whale |
| Front Crawl | ≤10:40 | ≤21:20 | ≤40:00 |
| Breaststroke | – | – | – |
| Backstroke | – | – | – |
| Butterfly | – | – | – |
| Individual Medley | – |  – |  – |
Test Details
Test Centers

Frequency

Target Audience

Centralized
– Toa Payoh Swimming Complex
Every quarter:
Mar/Jun/Sept/Dec
Last weekend of the month 9am to 1 pm
• Students
• Public
De-centralized
– Short-course / Olympic-sized Pools
– Preferably with starting blocks
– Lanes lines (compulsory)
Use of public pools or upon request from schools
• Schools
• Clubs
• Public